Browsing all articles in Portfolio
Project Objectives
The goal here was simple. To take a cutting edge putter company from small time to the big leagues. A tough market as it stands. Competing with the big names in the open golf market, this is no small task.
The Solution
Take the company's famous line of pro players and have them promote the company on all the largest tours. Using the web site to promote key players is a strategy.
Project Objectives
Bella Furniture contacted Prosopo not only to revamp their website and make it more user-friendly, but also deliver their work in an attractive forum. A design using a wood theme was used to showcase past projects in a fresh new look. After transferring numerous pages of content to his new website, we began optimizing the site for search engines.
The Functionality and Features
– Javascript rollover
– CSS and HTML
– Simple elegant white design
– Wood based theme
– Offer a medium for referrals and inquiries
Project Objectives
New Vintage Print, came to us seeking to improve their backend solution. While still using static HTML code, they realizes that content to their site needs to be altered quickly and effortlessly.
The Solution
The site was evaluated and converted to Drupal. The recommendation to use a littler color theme was also applied during the migration.
The Results
The site now emits a more subtle tone and allows sample pictures, contained on the site to get the proper amount of attention. A user interfaces to upload photos has also been installed. No longer will a HTML editor be required to update content on NewVintagePrint.
Project Objectives
Myfriend.com determined that a social networking web site dedicated to the public offers more choice than what is currently available. The site stepped up and utilized their flexible PHP backend to quickly deploy a new and friendly social networking site. Members can upload photos to the photo gallery, meet local people and businesses, search based on a wide range of criteria, participate in a forum, and much more.
The Solution
The solution was a sophisticated yet intuitive Web 2.0 application leveraging the benefits of CSS, JavaScript, PHP and MySQL. Some of the core concepts of this Web 2.0 website include your basic social networking aspects, making it easy to build a network of people, meet new businesses and friends. The process is made easy for visitors to find and compare service providers.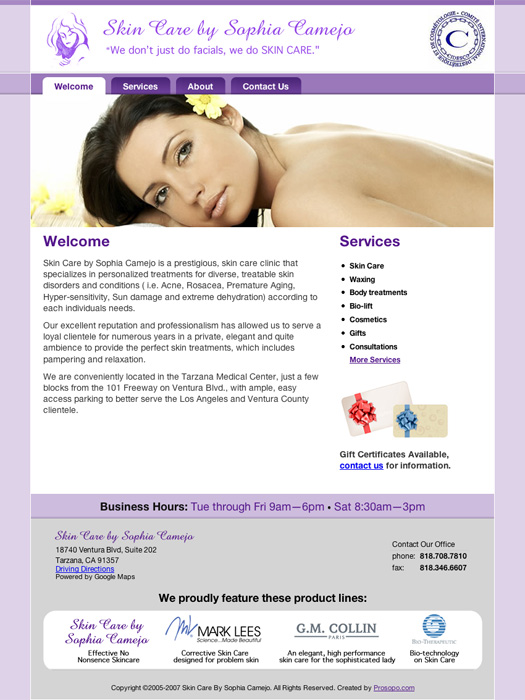 Objective:
Skin Care by Sophia Camejo is a prestigious, skin care clinic that specializes in personalized treatments for diverse, treatable skin disorders and conditions ( i.e. Acne, Rosacea, Premature Aging, Hyper-sensitivity, Sun damage and extreme dehydration) according to each individuals needs. Sophia offer perfect skin treatments services, which includes pampering and relaxation
Solution:
Sophiacamejo website is developed in Drupal, with simple and professional looks. It's easy to manipulate website contents from back end.
Project Objectives
SoCal Kitchens and Baths are Cabinetry Craftsman with a myriad of related skills. They needed a portfolio website that showcased their over thirty years of industry experience. The goal of the website was to promote their services to the Southern California. They also wanted to be able to easily maintain their site.
The Solution
We developed a website that is elegant and easy to navigate. Every page promotes their work with motion graphic solutions. Their is a flash based portfolio gallery, which like all the text on the website is easy to update through the Joomla based control panel.
The Functionality and Features
– Joomla Content Management Solution
– Flash Based Portfolio Gallery
– Javascript Based Image Header Rotator
– Live Inbound RSS Feed
– Custom Contact Form
– Custom Graphic Elements
Objective:
Burbank Computers.com is your good old-fashioned strong on customer service business that every city needs.  BurbankComputers pledge to have problems resolved quickly and professionally. The service is also strong on hardware and software solutions to meet personal and business needs. The website needed to convey this message.
Solution:
We developed a website that communicates their ability to fulfill large scale computer support needs. This website is developed in a custom CMS, wordpress and MySQL. Providing this website to the client in a wordpress based content management system allows them to easily maintain it internally and the people that follow the informative blog.

Project Objectives
Shoot2score came to Prosopo looking for an online calendaring system. With the growing interest in Ice Hockey in Southern California , Shoot2score needed a way to organize ice time, in their state of the art facility.
The Solution
A web2.0 style interface was structured for the visitors, but the real work was in the Calendar back end. A e commerce site was created to allow skaters to book ice times based on available time slots. Finally an administration area allowing a super user account full control over all actions of the site.
The Results
A site that allows all levels of skaters to review available time slots to fit their schedule. Skaters can also sign up for classes and professional instructors focusing on improving different parts of their game.
Objective:
Reflectivestripe.com is focsed to keeping workers safer by creating custom reflective striping on garments, processed through an easy inter-active online ordering system.
Solution:
Reflectivestripe.com was developed by customize programming. It is customize programming with back end CMS. Client can easily create new web pages and manipulate the contents of web pages. The focus of this client was to keep the site looking attractive and current.
Objective:
Socalrnr.com offers high quality restoration and remodeling services across the San Diego. Socalrnr offers carpet cleaning, mold remediation, fire and smoke clean up, water, sewer and flood extraction services.
Solution:
We developed a website that offer restoration and remodeling services. Socalrnr.com is developed in server side scripting language (PHP) / MySQL and Flash with attractive graphics.
portfolio Categories
Portfolio Projects
Schedule a Meeting
Call Now: 858.605.1290
info@8trackweb.com